It was hard to come back home, it felt as I really got sucked into the life in Morocco this time. But life continues wherever and Sweden isn't such a bad place after all…only slightly different. And trainingwise this place has it's obvious advantages. As I flew back to Stockholm I figured it was a good idea to stay and train and also pull of some sponsormeetings while in town. But also to keep the moroccan spirit alive and see my teacher Christer some more as he lives here.
Then I went back to Göteborg to take care of some other business and deliver all the presents to my family from Morocco. I also had a slideshow gig to attend. Spring also seemed to be in the air on the westcoast and we had a great day with some of my best friends climbing, sauna and dancing the night away…
Soon after I realized Stockholm was where I wanted to be and went back. Since I returned here we've had quite a few opportunities to climb on rock, music and good times in general. The 4 huge climbinggyms also gives you a treat. But after all, the oldes one (Klätterverket) I still think is the best for training (but has the worst music…) as the newer ones are massive but have a bit different approach -being more commercial. But this is not at all a bad thing as you can take a sauna after training!
out bouldering with Maja, Stefan and Daniel. It's funny how we after all these years find the joy of climbing some obscure piece of boulder in freezing conditions… fortunately we also had some days climbing shirtless in the sun on some nice routes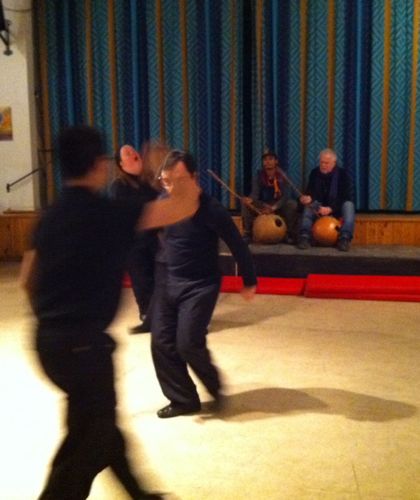 doing a small gig with maestro for handicapped dancers. this is so close to the "real thing" as it gets. these people are so genuine, spontaneous and happy I could keep playing for them all night.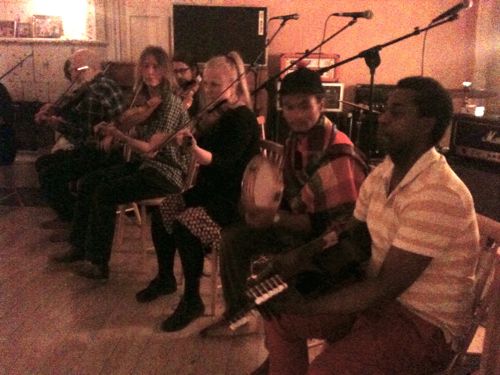 it's also a great time to catch up with old friends. above playing at a party (with mainly "swedish folk music" people) with my former band member and friend Andreas. here we were sometimes 10 people playing different instruments (mainly violin) and everybody else were dancing old swedish folk dances. for me it's always great to see that traditions live on, even in a "modern" country like Sweden. Here it is difficult to find anything traditional in everyday life exept maybe x-mas..!
In the photo below me and my old friend Micke (who is a storyteller by profession) having a jam in his kitchen. this is what I hoped I could do every day after dinner!