And it kept on raining even more. I was so desparate that I even agreed to enter the swedish bouldering nationals as climbing on rock was out of the question. On the 2nd problem my hand flopped of some small crimps and my right hand hit the wall in the fall. This was bad enough not to go on with the comp. I was afraid it was something serious but a few days later I was back on it -and the rain had stopped. I climbed outside pretty much every day before taking of for France and les gorges du Verdon. But there had been a point with the bad weather -it forced me to train indoors like mad. And I surely would not have been in as good shape for my project in Verdon if I had only climbed on granite crimps.
Anyway, we arrived pretty late in Marseille, checked out a car and drove up to Venelles (near Aix-en-Provence) to spend the first night at my friend Francois Legrands place. I was good to be back at his house where we used to train back in 2000-2001 when I lived around here.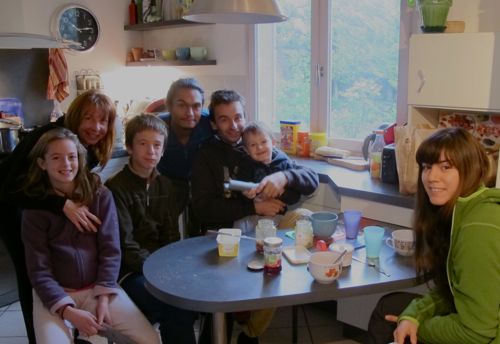 breakfast with the Legrand family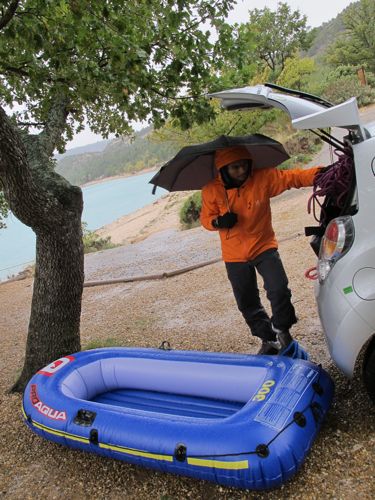 The next day we hit the road for Verdon in the rain. After pumping up my inflatable boat that I had brought with me from Sweden, we paddled out to the Galetas cave in the rain and wind. But the cave itself stays dry in any conditions so finally there it felt good to climb. I re-checked the moves on "Les 3 P" (Pan-Piano-Perfo. Bolted by Bruno "Graou" Clement, FA by Adam Ondra, repeats by Sébastien Bouin, Charlotte Durif and Enzo Oddo). The moves are not super hard but then I knew the length of the route would eventually kill me. So, when I finally did the route a few days later, my forearms were in great pain. I guess you can not be enough prepared for this kind of style?!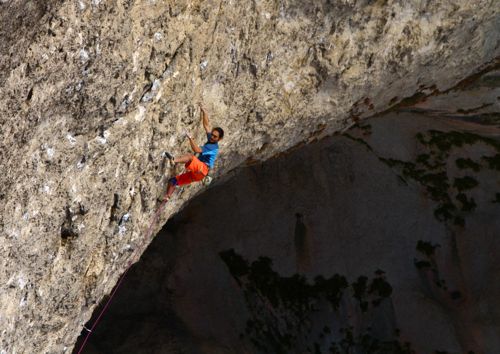 Les 3 P, just before it starst to get really steep and the real buisness begins.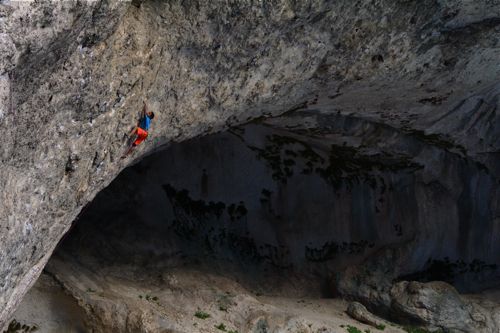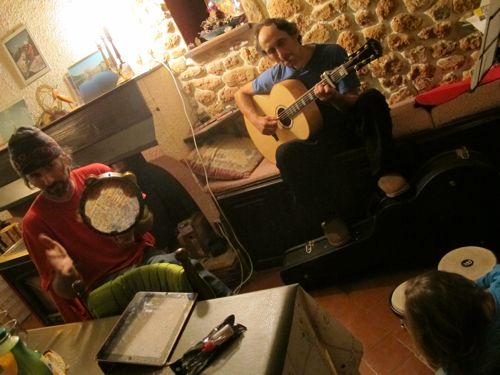 jamming at Alans house
We went back to my friend Alan Carne's house and I celebrated with washing the dishes! My friend Lafouche had also arrived with his family and the plan was to shoot photos for an artikle+my newes sponsor. The main target was the modern classic "Tom et Je Ris". After a few days we commited for the hike up to the routes rappel. When we arrived at the top the northwest wind had picked up so bad that it would have been impossible to climb in the freezing conditions.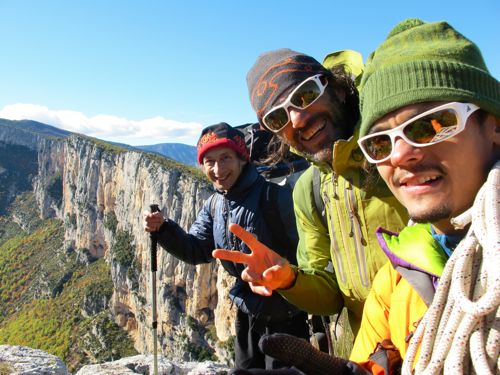 with Alan and Lafouche at the top after they advised me to abandon "Tom et je ris" in the wild mistral wind from the north. it was probably a wise decision!
We changed plan and went to the old-school classic "Les Specialistes". It was wet.
But we still got some great shots and the routes I didn't get to do is a good reason to come back in the near future. The last day we got up at 06.00 to climb in Chateauvert on the way to the airport. After finishing some nice routes in the sun it was time to head home. Nothing had ever felt som wrong…