The swedish summer months can sometimes be miserable and deceiving -you never know it will be a good summer or not. but I must say we've had some great weather in the past. firs it was a bit too hot so I focused mainly on bolting and trying different routes. then suddenly the temps cooled down a bit and it was time to try. one route that I've almost lost interest in is a 2nd extension to a route called Leroy at the "Granit Cave" (Granit Grottan) . I did the firs extension (called Laroy) last year but we had to work hard to dry it each time and even then it wasn't always climbable… due to the dry and hot weather it was finally perfectly dry and I thought I might have a go on it. In these conditions it one of the most unique (and in my opinion best) routes around and the hardest I've done in Sweden. I called it "Captain Caveman" (after the classic Hanna & Barbera cartoon) but some call it Laray (?!) as the other variants are called Leroy and Laroy… pretty damn confusing names… anyway, its the best of the routes at this sector and I left the draws in for anybody to try and give it a proper grade. Myself I have kind of left the old way of grading as it is so subjective, therefore calling it 3rd dan (as in martial arts, black belt being around 7c+/8a etc) which means it's pretty hard but not as precise as the usual way of grading. I'm sure it will get a letter from someone else sooner or later anyway.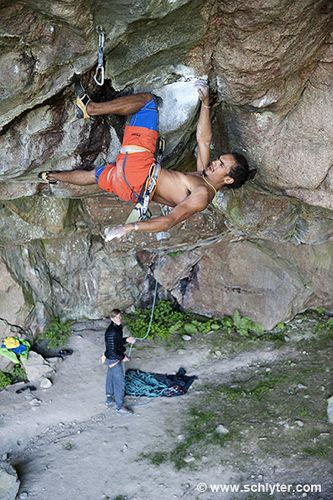 the rest before the first big crux on "Laroy" before entering "Captain Caveman". I know these names and explenations really don't make any sense but when you are there it is actually pretty logic! photo: Fredrik Schlyter/www.schlyter.com
Appart from this I've had a few concerts and I'm also getting prepared to record a small album in the end of the summer.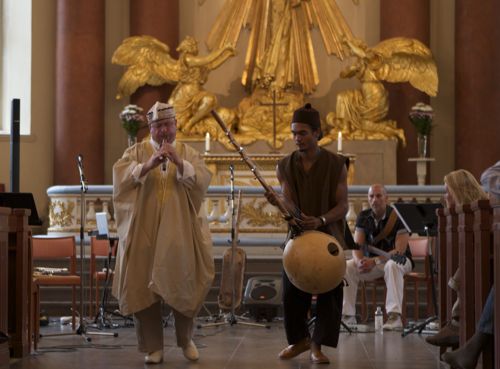 with Salomon Helpering (here playing the Armenian doudouk flute) and the group Sacral Placid in Domkyrkan, Göteborg.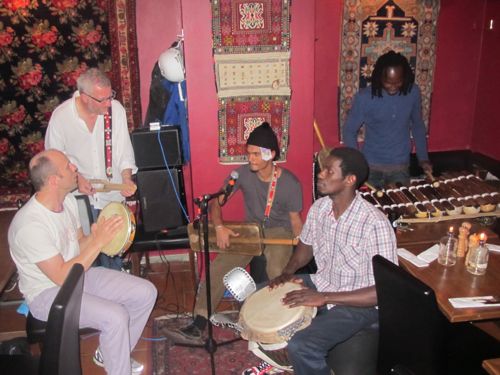 with TREQ -gnawa (here with Peter, Calle, Moustapha and Abdou) at our beloved restaurant Bazar.
After the send of "Captain Caveman", me and some old friends, went for a weekend to Stockholm to climb and party. It ended up being a great time with loads of dancing, climbing naked and finishing of some last 8's that I had not done before.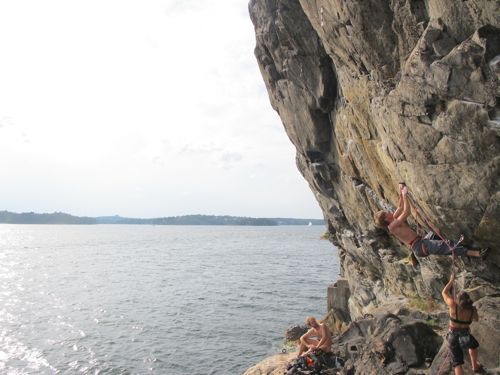 the day after: Max Boholm, climbing in the sun with a bad hang over, the so called "Tintin direkt", "8a" (but more like 7c) at Finnsvedsberget. And again, who cares about grades? Well, at least all the people who have climbed it and calls it 8a when it's obviously not. A nice route with perfect setting nevertheless, you can untie at the top and jump in the sea after!