Back in Spain I was on my own. Well not really on my own as there are several million people living here. But I needed to sync with someone and I had a clear goal this time. I arrived in the late afternoon heat and started to get more worried about the hot=bad conditions than finding a friend who would not mind going climbing with me.
Everything turned out just the way it was supposed to. I just drove out to crags and found people. But for my specific goal I needed something more stable. So I picked up my buddy Eric and we drove out to gorges de la Dourbie, in France, after I finished climbing in Sant Llorens De Munt and l'Ariege. The route I wanted to finish was "La guerre de Nerfs" which according to the ones who have done it deserves the grade 9a. Who am I to say anything about numbers, it's just a great route that I wanted to do. The heat in Spain stayed behind and in France temps seemed to be perfect. Ok, so to make a long story short: as I knew that a friend of mine, who happens to be one of the best climbers I know had fallen 2 times at the top, I dialed the route better than any route before. And once I had fought through the first crux and taken the the good rest, I climbed like an emotional robot to the top.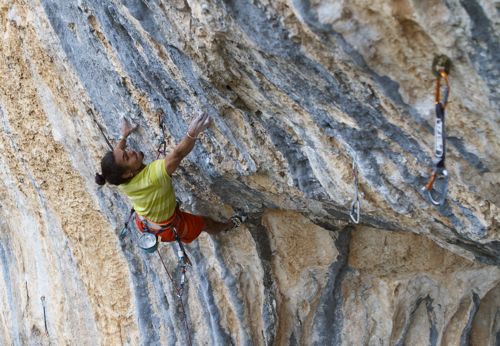 the crux move, with the best foothold I found out for this was a footlock between 2 tufas.
Before going for this one I had a gig+a jam in France with my buddy Zaky Diarra and some amazing musicians from India. So to celebrate I drove straight back to Toulouse for more music. I went straight to the venue, and late as I was I just jumped straight on stage and started playing. Sometimes things just click. This was one of those days. Everything just felt so incredible that I had a hard time to be 100% present emotionally…or was I actually beyond present?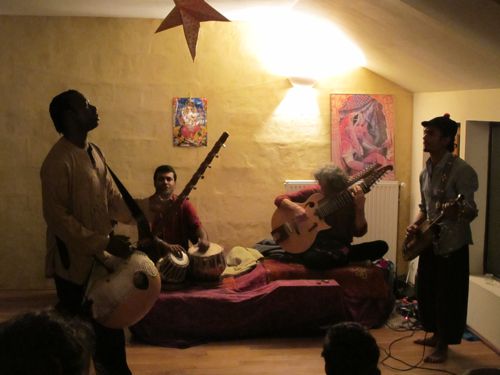 gig i St Girons, Ariege.
gig in Toulouse.
httpv://www.youtube.com/watch?v=RIg2il2ugZc&feature=plcp
jam in Pibrac/Toulouse with Zaky Diarra from Mali and Sandip Chatterjee & Debojyoti Sanyal from Calcutta/India. True maestros and a honour to play with such great musicians.