Yes, I'm back on the climbing track. In fact, I don't know if I ever trained this much before?! About 10 sessions per week+some outdoor cranking if the weather is good enough. Sometimes 2000 moves, bouldering etc in the day makes me crave for sauna and loads of food all day long…
We haven't had any real snow until yesterday, the temps have been quite mild so I've taken every chance to sneak out to touch real rock. These winter sessions are some of the greatest as the friction is just amazing. I'm not in top shape but you don't have to as you stick to the rock like velcro!
As I said the snow came yesterday, fortunately my friend went out with a shovel and prepared some boulders for the next few days of sun and -6 degrees!
"Gärdsås Travers" -an old classic and a must-do every season
"La Bousse ss" -a modern classic and a must-do every season
Gia on "Cassiopeia" just next to my route "Sunjata Keita"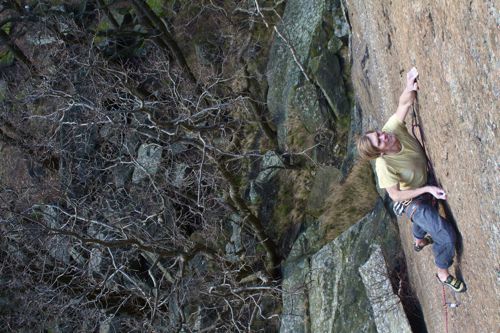 Mad Max on the same route
Jonas Paulsson, who is both climber and photographer has been with us to trips to Mali, Morocco, France etc and done many great photos. Here we change roles for once!