Someone said it has not rained in Cataluya since last summer. Well, looks like a bit of unstable weather is finally here! We've kept an 24/7 eye on the norwegian weather site to know where to go next. The rain was supposed to arrive already the night when we drove to casa Sharma for a bbq. But it ended up being a great evening with loads of food, music & good friends.
Brett, Chris, Daila & the Lafouche family getting stuffed.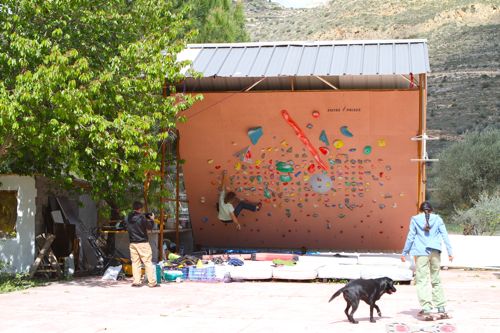 the next day Chris was going to Oliana to attempt a new route with Adam Ondra. Brett Lowell from Big Up Productions was there to catch the action. Here warming up on the back yard wall.
We decided to check out Camarasa, one of the "oldest" crags in the area.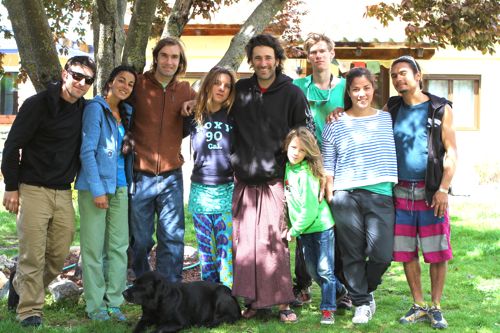 but before splitting up we had to take yet another group shot, here with Brett, Daila, Chris, Clo, Lafouche, Delphi, Max, Amanda, me and Chaxi. It's funny how I've been coming here for the past 11 year's and somehow somethings never seem to change. Some do…
Camarasa was cool for a day, pretty old-school. We went back to Prades/Montsant and hiked up to Racó de Misa. This must be one of the most beautiful places around. I had been on-sighting steadily but this came to an end here when I fell on the 6b part of a 8b+ as I choose the wrong pocket (all the chalk had been washed of by the rain at the top)… who said climbing was easy?
Next day we went to nearby Siurana. This place is maybe not my favourite but mythical and world class never the less. We also met up with some old friends from back home+the never-stopping Tony Arbones; the man of Siurana.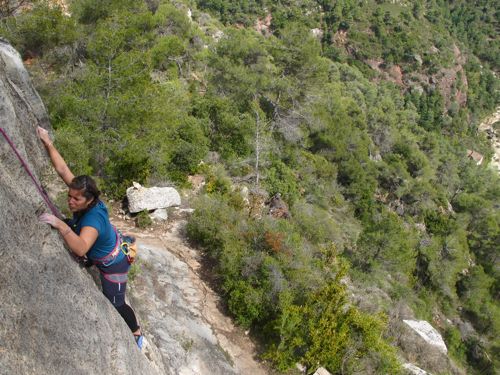 Amanda doing some old-school crankin' in Siurana.
The team has narrowed down and it's just me and Max left. We are stuck in Rodellar as we have run out of gas. We were also planning to climb the multi-pitch of "Fiesta del Biceps" in Riglos but how to get out of here? And the forecast says more rain! Well, I guess there are worse places to be stuck in..?!