Someone would probably disagree but we found ourselves lucky with some unusually cool temps for being in the month of april in the south of France. We did a few days in "le Tarn" and then moved to the nearby gorge: gorges de la Dourbie. I was here last fall to try a route and found it perfectly dry this time. And the conditions were perfect -it just felt so much better! But after a few days in the area with not so many routes to climb for the rest of our team, we had to move on. At least now I know I can do the route, just need to come back with a more patient belayer…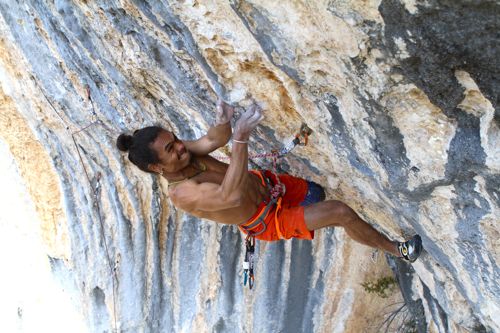 working, enjoying, pushing, suffering, living. I'll be back -soon! photo: Sindre Gunleiksrud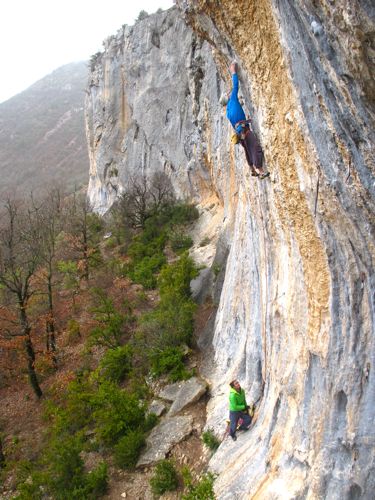 Mad Max doing the best out of Dourbie, here climbing in la Verriére and Cantobre.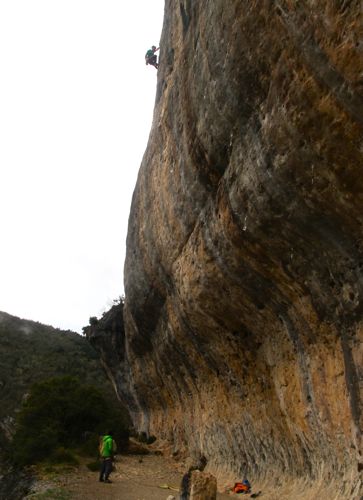 We moved on southewest towards Catalunya in Spain. And as my friends had never been in the area before we just had to stop by in Barcelona for some tapas. And as soon as that was done we went to Margalef. On the way out of BCN we realized we were lucky not going the opposite directions: there were just SO many going back to the big city after the easter vacation, they probably needed 3 hours for what would usually take 30 minutes..!
Margalef is without a doubt i fashion but most people had left after the long weekend. We jumped between sectors and I finished some great and/but agressive pocketpulling mayhem routes.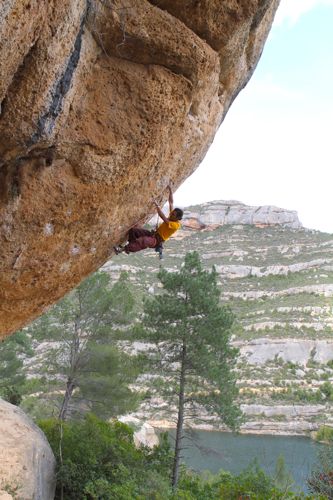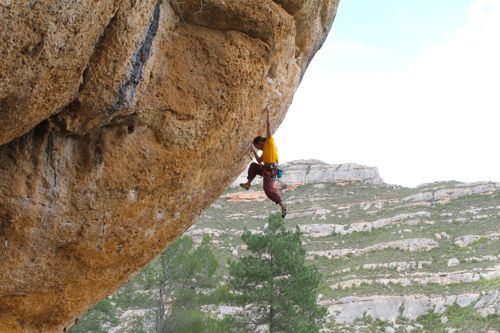 And as I wanted to show the team the best of Catalunya we also headed up to Terradets. This place still is one of my favoutites, 11 year's after visiting it for the first time.
Ok, so we had done loads of climbing in the past but what about dancing? The team finally agreed on going to the techno club la Florida in the middle of nowhere, the village of Fraga. And it was well worth the drive!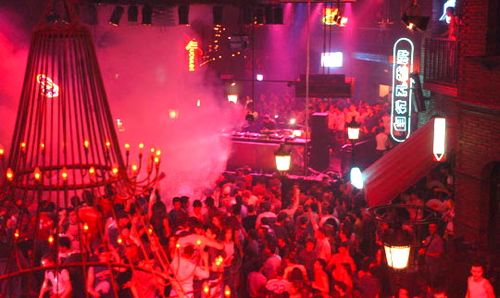 After the night out we drove closer to BCN again as we needed to drop of an pic up people at the airport. We slept in Montserrat which is an incredible climbing area just outside Barcelona, with about 5000 routes! The day started with sun but later snow and thunderstorms! Me and Max were as high as possible among the surrealistic conglomerate domes of Montserrat (St Benet) when it finally stopped snowing. I found a beautiful and hard route, just hard enough to finish in an afternoon. And just next to it lived a man that we later found out was named Jordi Animal. What I'm trying to explain is that he live in a house/room digged into the mountainside. He served us te which was just what I needed to finish the route in the cold conditions. After the send we looked out over the clearing landscape: Barcelona, the ocean and there somewhere in the distance was the island of Mallorca…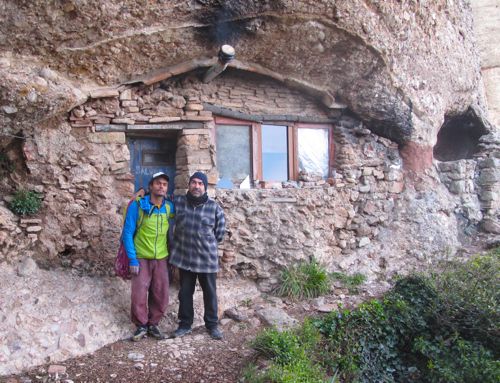 with Jordi outside his house in Montserrat.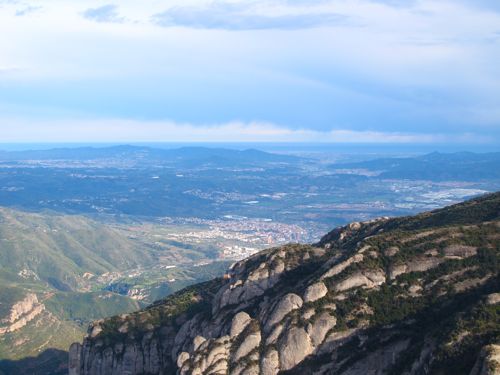 the amazing view from the top of Montserrat: Barcelona, the ocean. and Mallorca is supposed to be there somewhere in the ocean.

Now we are back on track with a slightly different crew and tonight we are going to have a BBQ at casa Sharma. I hope the rain stays away atleast tonight!