After our final stop in Luxembourg we headed back to Gothemburg, Sweden. But as I was booked for a slideshow at a climbingfestival on the eastcoast of Sweden (Västervik) I only had one night in my own bed. Then I was of again.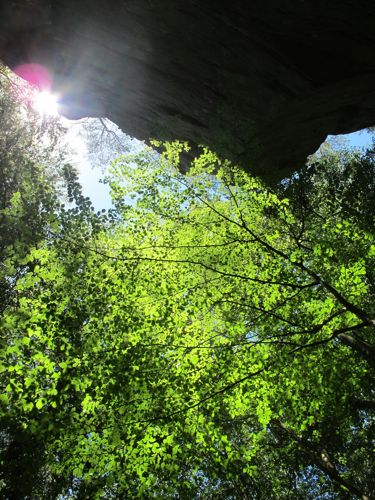 high class sandstone in Bergdorf, Luxembourg. I'll be back!
The festival was small but nice. There was a bunch from the old scene of Swedish climbing, people that I have known for around 15 years. It's great too see that we are still in the game and not much have changed.
oldboys of swedish climbing: Erik Massih, Johan Luhr, Jens Larssen, Stefan Rasmussen, Jim Wasmut.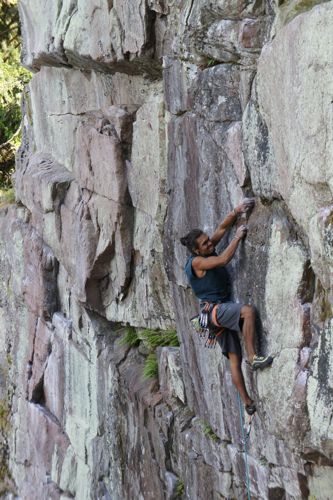 climbing some worldclass routes in Sjöända during the Västervik climbing festival.
After climbing some nice routes and meeting old friends, I stopped by Linköping for some more climbing and a street jam. I then moved on to Stockholm where I stayed for a few days. I had a meeting with Peak Performance, went out climbing at the refreshed Träskberget and Örnberget (where I thought I had done everything but still found something new to do) and also trained with the legendary Johan Luhr (the man has put up some 1400 new routes and is in the shape of his life, he just turned 50!) at his homewall. Everyday was finished with a nice swim, even in downtown Stockholm.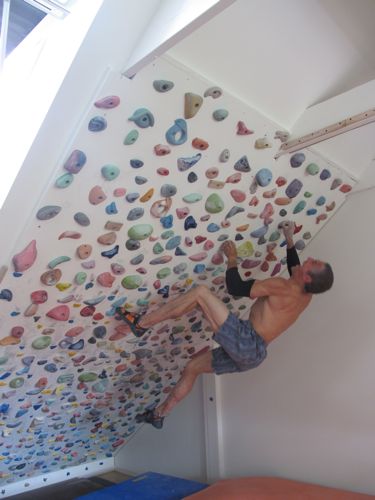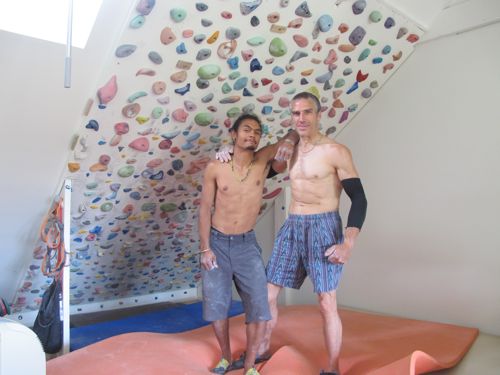 a morning session at Johans wall. As the outside temps were almost around 30 he had boosted his AC to max!
I also met my teacher Christer Bothén and we were invited for an open air concert with a bunch of other legendary musicians at "Slussen".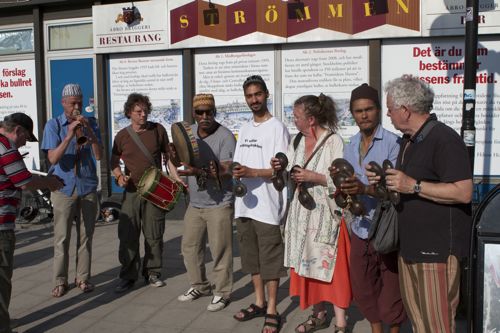 with Roland Keijser, Henrik Wartel, Abdelghani Najraoui, Ismael El Hachimi, Anita Livstrand & Christer Bothén.
One final thing that came to my mind was how parts of the climbing community seeme to function: if you don't publish your ascents it's almost as if you haven't done them. On this trip I've done around 50 8a-8c+ but haven't made any fuzz about it. Why is it so important to let everybody know about every single route that you've done? I can see that it can be inspiring to read about things like this but isn't it the experience and not the grade that is the most inspiring? And talking about grades, this is maybe the hardest subject of all as it is a totally fiction. What's real is the rock itself and if you like the route or not. This sometimes seemes to have a minor meaning in the great art of rockclimbing, numbers in guidebooks and letting people know that you have done this number beeing one of the main reasons to climb. But I must say it's kind of funny that people would come up and say: "so, haven't you been climbing in the past, I haven't read anything about you?". I would then see that routes that I really didn't think would be worth mentioning are even making headlines… anyway, the story continues.