After spending another week in Vadiello it was time to move on. It had been nice to be almost alone at this beautiful place but it was time for some socializing. Exept Carlos "Citro" Logrono (a local climber from Huesca) I had not met any old climbingfriends so far on the trip. We headed towards Lleida, the new climbing capital (what Aix-En-Provence used to be in the 90's). We stayed at Jordi Salas place for the night and the next day headed for Margalef. Not because I had some special route in mind but because a bunch of old friends where there. We met Joe and Colette, living climbing legends Yuji and Jibé, japanese star Sashi and a bunch of other familiar faces. After a few days of doing some of the best routes ever in Margalef I wanted to check out Papichulo in Oliana before heading south. I met Ethan Pringle (fresh from sending Era Vella. and btw, I met Ethan for the first time i Rodellar about 10 years ago. we lived in what these days is known as the Ali Baba cave. those were the days…) and he was keen to give it a go. Ever since I belayed Dave Graham on this route a few years ago I have had the biggest respect for the line. It's a beauty, lies on one of the purest faces I know but also has the reputation for having some really small holds. I did the first part ages ago and thought that if it goes on like this, it's probably not for me. But after hearing Joe rave about how good it is and that the holds are not that bad I decided to check it out. And I found out it wasn't at all as bad as expected -this mother of a route is totally possible!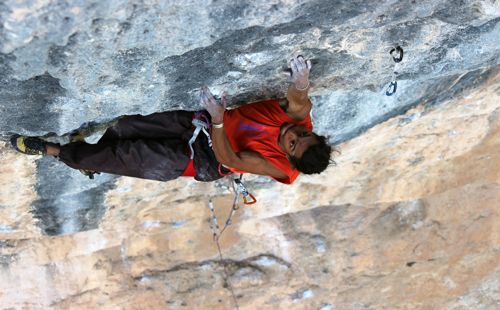 photos: Walker Emerson+Greg Garretson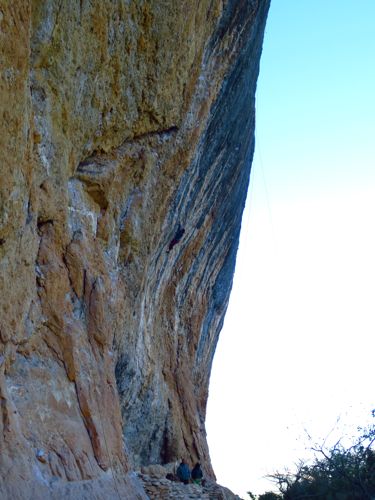 After having some good days in Oliana working on Papi but also on-sighting some monster routes, and having a day in Figols (thanks Joe) doing some more monster on-sights, we turned south. Papi will have to wait and Andalucian limestone+flamenco is waiting… We are currently in Cuenca doing some steep pocket pulling and meeting up with maestro Dani, who is the old guru also for this place.