Time flies -as always… It feels like I just got here but 2 weeks have already passed. But these 2 weeks have been great, I'm really getting into the simple life out here. And I've already climbed so many memorable boulders: Vanity, Ulan Bataar, Dirty Epic, Macho King, Nutsa, Caroline, Out of Balance, , When the day breaks, Black Shadow just to name some of the highlights…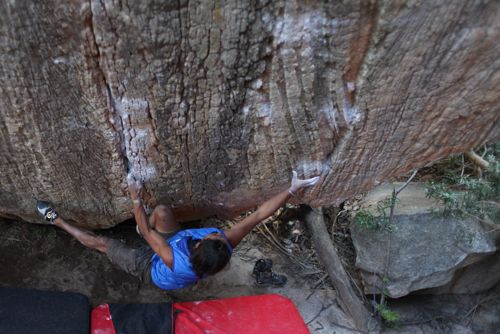 Caroline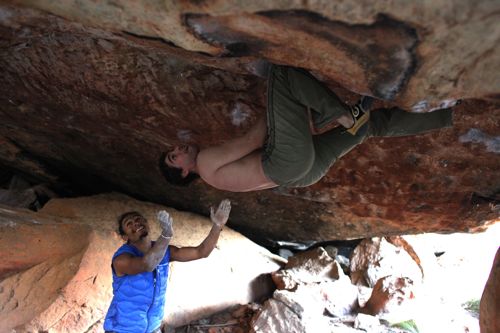 Joey on Madiba -steep and hard, joder…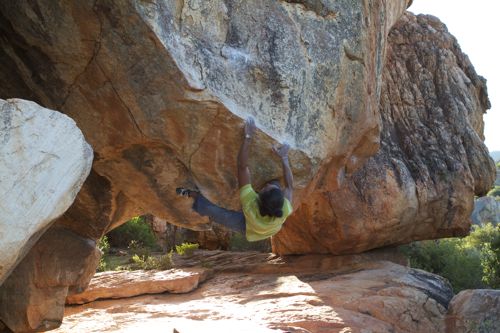 Black Shadow -a true classic!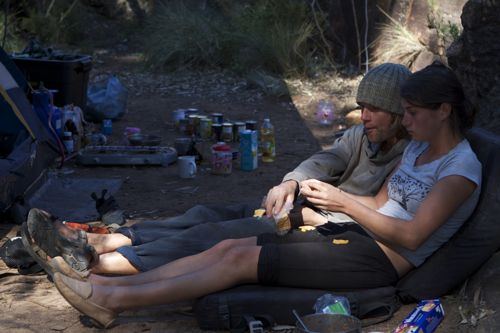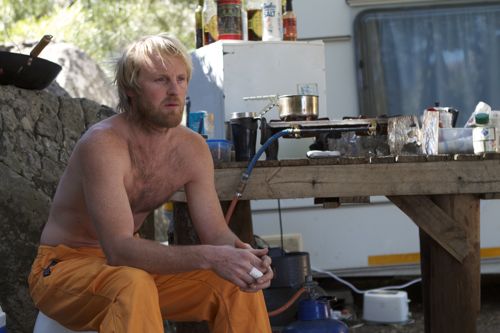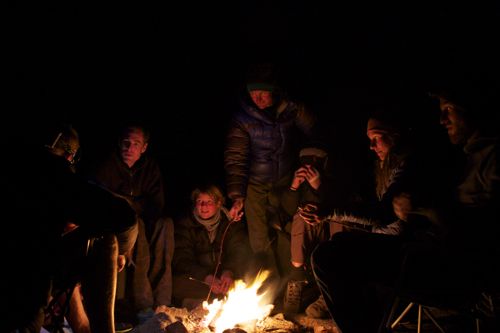 the simple campsite life. the guy in the orange Verve pants is Scott Noy who has made the Rocklands guidebook a driving force in the search for new problems and routes.
The only bad thing was my nasty fall up at the Fortress the other day. I had been spotting my austrian friend Manu on this problem called "Streched & Pressed" and I was uncertain of what I would have done if he would have fallen: it's a bad landing and it was only me spotting. Fortunately he didn't fall! I didn't think I was going to either. So, headlamps were on and I went for the last burn of the day. But when I arrived at the last move, a kind of a mantle, I was totally burned out. So I went hard for that last move. And I fell. Down in the dark. Manu pushed me but fell into a tree behind him. I landed on my backside and continued down in the "pit" with my head between my legs. So the result was a really bad big bruise and a bad neck. A limped down with a ancient walking stick to my car, drove down to town and a big dinner. When I arrived I started seeing stars and could't even recognize some of my friends. But as soon as I had gotten some food things started to clear up and we partied until 04.30 the next day. I hope I've learned something from this! A murete is not always the best way, or is it?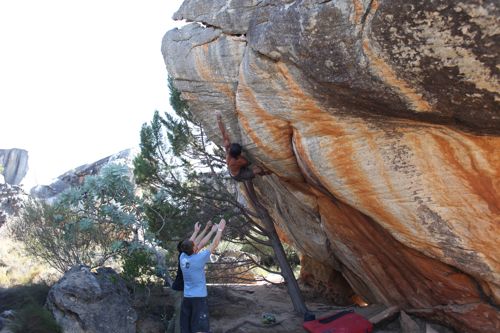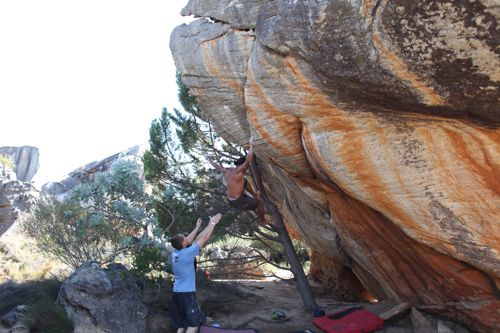 trying and falling of another problem that I did later on: Out of Balance
I'm really grateful that I didn't break my neck, I'm climbing again and tomorrow we are going to Cape Town for Palak Paneer, friday prayer and rave party. The great journey continues…