In 2005 (or 2006, hard to remember..) after yet another trip to Spain I stayed with Dani Andrada in Lleida for 1 night before going home. He showed me photos of "new" areas from all over and one of them was Oliana (or as the sector is actually called: Roca del Rumbau, Roca del moro -very fitting: the moors rock;) and the amazing tufa route of "Los Humildes Pa Casa" (that I managed to OS years later). This route and crag just looked to good to be true and in the early spring of 2008 I finally got the chance to go there. I went with Daila Ojeda, Obe Carrion, Chris Sharma and Josh Lowell who was filming for Dosage vol 5. Chris was working on a new, amazing line that he did later that year, calling it "Papichulo". At that time not so many routes existed yet but I was hoping to come back in the near future for more.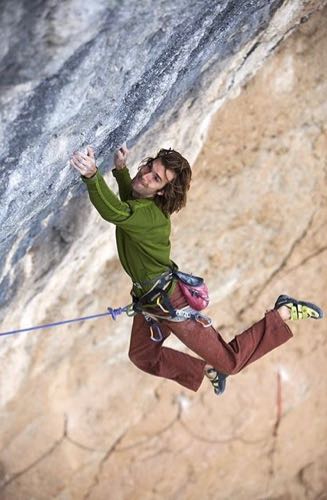 Chris on the FA of "Papichulo" in -08.
In 2009 I was injured so the spring season of that year I was out of the game. Then in 2010 I was back in Spain and headed directly to Oliana. When I was there the first time there was no one there exept our little group of climbers. Now it was hard to find a parking and I realized Oliana was the new hot-spot on the climbing radar. Chris and other locals had been busy putting up new amazing routes and it looked like everone was there to try. One team included Dave Graham, Jon Cardwell and Chad Greedy. Dave was trying the new world testpiece "Papichulo" and Chad the intro 8b dubbed "Minichulo".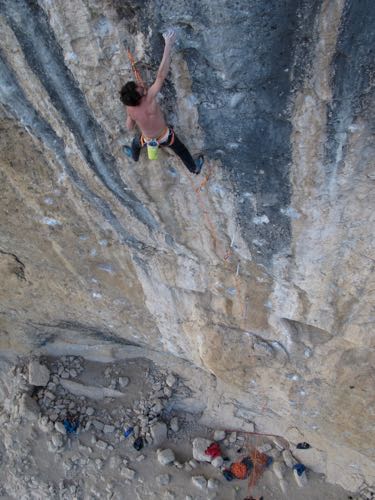 Dave on the first crux resistance part of "Papi" some people call 8c+ before the "rest". And Daniel Woods giving Klemen the beta for the crux. Daniel crushed the route 1 week later.
Chad told me to give the intro a try and I did it after much effort and continued up to check the rest. But seeing Dave struggle somehow made me respect the lite too much. What the hell, I was still working on 9a routes…this one was a grade above that -no way!
The route however stayed on my mind and in 2013 another friend, Joe Kinder, had started working it. When talking to him he convinced me to go back and try again -"you can do it dude!" Thanks man! And as I was in really good shape, had just "accidetly" done a 9a on my first RP go, I felt as the time was right. I arrived and teamed up with Ethan Pringle to check the route out. And I quickly realized that the rig was by no means impossible.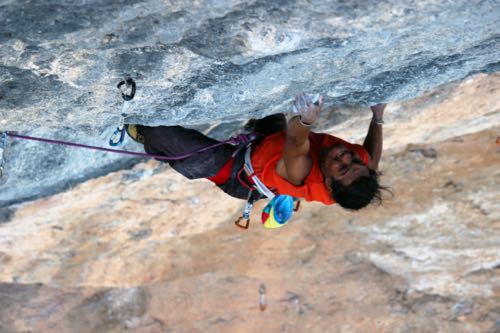 1st serious round, end of the RP crux sequence. Photo: Walker Emerson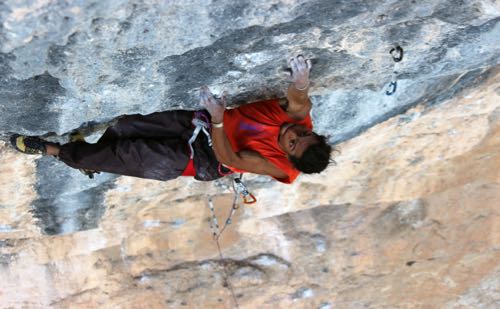 But my cursed drive to travel, climb on-sight and not dedicate too much time one 1 route only, made me leave or climb other routes in Oliana. I've been back in great shape and left ever since… I guess I could've done it it years ago but instead I've climbed many other great routes. Last year was one of those, did the route with 1 hang but then decided to go to France and climb something else…
But for how long can one deny the commitment to finish an amazing route like this? If I want to do this one MAYBE its easier today than in 10 years from now!
This year I was determined to finish the route and I trained once again with the send on my mind. But as a bonus, to make things a bit more complicated, I injured my A2 pulley in my right middle finger. This didn't exactly make things easier…
httpv://www.youtube.com/watch?v=UwkVFoOpKlI
But after all these years of not beeing patient, not trying to be "smart" I guess I learned someting. After trying the route for some 5-6 weeks in total over several years it felt great to finally clip the anchor. Maybe my approach to this (and other RP projects) route was the best way in the end. Only try when I feelt good and psyched, then leave when the feeling was gone.
I don't think I've ever had a route this dialed and rarely had to fight so hard. At the headwall, after the hardest sections, I knew that I could do it if I just didn't hesitate. And if the 1st section is my anti style, up there I was in my element climbing a muerte. This is what I've done and trained for all my life: go fast, go 100%, let go of anxiety and totally tune in with the freedom of moving on rock. There is always a kind of magical feeling when you suddenly succeed with something you kept on failing on before.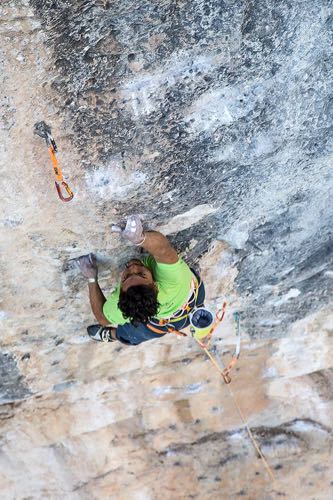 In the 1st hard section with long moves between small holds and no rest: my hardest style but I love it! Photo: Jesper Östlund/thinline.se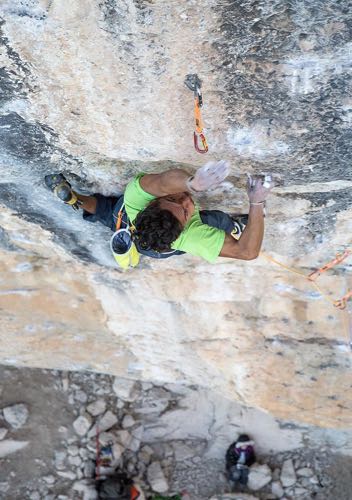 The perfect headwall. Photo: Scott Noy/scottnoy.wordpress.com/photography
Since 2008 "Papichulo", along with "Biographie" in Céüse, has become one of the most repeated routes in the 9a+ range in the world. Both were FAd by Chris Sharma and are concidered modern classics. I usually prefer hard routes that are beyond the radar and popularity, mostly because I don't like standing in line to try. But there is a reason why these lines are so popular: the obvious beauty, the rock quality, the moves and rythm. I think any climber would like to climb on them and I hope as many as possible will.
If I would to pick a route based on the grade (a phenomenon that I've noticed: people climbing grades, not routes), "Papi" would probably be pretty low on the list. The whole first section is harder the shorter you are and I'm terrible on resistance on small holds. A steep route in a cave would've been more in line with "what I'm good at". But climbing has never been about that: we climb to challenge our selves, it has never been about making climbing easy. Climb routes that we find beautiful and some of them talk louder to us than others.
At the same time I hope that trends in climbing, and this comes to specific areas and routes, will not bee too influental. There is so much good rock and routes in the world and the impact on sertain places and routes can be their fall. For instance "Action Directe" was one of the most polished routes that I've ever tried. Many places are threateaned with access issues and over all polished routes. I just hope future generations can enjoy climbing the way we are doing today.
Now the journey continues, this is only the beginning!
Full movie of the journey coming soon called "Follow the red dots" (unofficial trailer below):